I have been short changing you, readers. I promised to give you the details of my vintage home and wardrobe and so far I've only provided 50% of that.
This is partly due to the fact that my current home is in the middle of the desert in Abu Dhabi and it's a modern one bedroom flat. It doesn't cry vintage. Also, given that I was pretty sure I'd only be here a short while, and the main reason for being here was to save money, I have not invested a huge amount in home furnishings. Just enough to make it feel homely – and most of that is from Ikea because home stores are not many and varied in the Middle East.
Still, I did once have a British home and I did grow up in the UK, so I am going to share with you one of my favourite kitchenware brands.
My Mum tells a story about being with my paternal grandmother one afternoon when I was baby. Mum was thinking out loud that she couldn't decide what to give me for my tea and my Nan suggested jelly and disappeared off to the kitchen returning with these jelly moulds.
I own these now. Mum has passed them on to me, still in their original packaging and there is something so special about them. I like that story. I like the fact they've been handed down through the generations. I like the fact that Tala has been producing kitchen staples since 1899. I have picked up various bits of vintage Tala from Car boot sales and the like, but I also love the retro items they have bought out in the last few years. A few lovely things have made their way into my Christmas stocking courtesy of my Mum. I love the idea that one day I might pass them on to my daughter or granddaughter.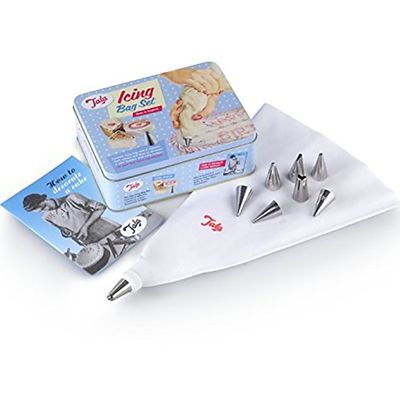 I'm moving in with DrP when I move back to the UK in July and in an attempt to improve his woefully resourced kitchen I treated myself to a few online purchases recently. I'd always wanted one of these and now I have one!
It is with a nostalgic look I say:
It's only vintage but I like it…
Oh, and: That cute Collectif dress? Here's a video of me singing whilst wearing it. It looks stunning. I won't tell you the sad of story how I ruined it in the washing machine after just 2 wears 🙁